For anyone wanting to know how and where to buy a Savannah cat, there are two ways to buy a cat from Savannah Cat Breed.
Option One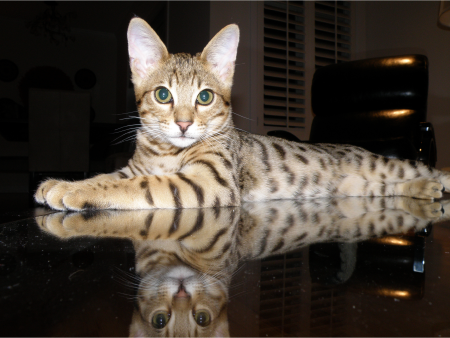 Since our website is updated almost daily, most people fall in love with an available Savannah kitten. Once you decide which of our special kittens is meant for you, a check or credit card deposit in the amount of half of your kitten's purchase price holds your kitten. You will receive a Deposit Contract showing payment has been received, and until your kitten is ready to "go home," we will be busy taking photos to keep you up-to-date on your kitten's progress.
Your kitten will be ready to go home between nine and eleven weeks of age. All Savannah  kittens will have received at least one vaccination with Ft. Dodge Fel-O-Vax IV before leaving; some will have received both kitten vaccinations depending on their age and how well they have weaned. If requested, we are happy to hold your kitten until both vaccinations are given.
We generally know a week in advance when a kitten will be ready to travel. At that time, we will contact you to be sure you're available to receive your kitten. Your kitten is then taken to our vet for a check up and health certificate. When buying a Savannah cat, final payment plus $450 shipping expenses, covering the flight, the carrier, vet visit, and health papers, are due before your kitten leaves Savannah Cat Breed.
A flight is booked, usually on Monday, and kittens are generally sent on Friday. This allows your kitten the weekend to "settle in" before your work week starts. Your Final Contract will have been attached to your kitten's carrier and sent along with your kitten.
Read our Shipping Your Savannah Kitten blog to learn more about the shipping process.
Option Two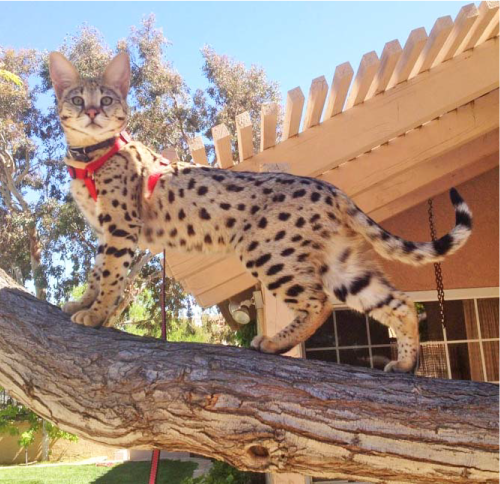 The Pre-Birth Contract. If you have a particular breed, color, sex, and generation in mind, the Pre-Birth Contract gives you first right of refusal as kittens are born, before their photos are posted on our site. Once you've decided on your Savannah kitten, the procedure is the same as above. The Pre-Birth Contract requires a $500 deposit. It does not commit you to any specific litter or kitten and is refundable or transferable to another breed or generation at any time. Depending on the time of year relative to "kitten season," we generally have more than one deposit for each generation.