This is Pepper, our F1-Savannah male. He was born in April 2001 and he is about nine months old in these pictures. We got him from Dale in the beginning of October last year, when he was six months old. That is older than normal for a kitten to be shipped to his new owner, but we had to wait such a long time to get him to Germany where pepper is living now.
You need permission from America and from Germany to ship overseas, so it was a bit more complicated, but it was worth the wait to have Pepper here now. On his arrival Pepper was a bit upset – it was a very long journey. At first I thought he might never hear his name, but now he does. But anyway, most the time when we are at home he's in the near of us. I have never seen a cat which is so friendly with other cats from the first minute on. Pepper really loves his mates. I think most Savannahs really need at least one cat companion – they are full of temperament and like to play and jump around. It's so funny – I love to see that! But of course he also likes to play with his people, he can't ever get enough. When Pepper arrived here, he was smaller than my matured Somali and Coonies, but at this point of age he is a bit bigger than my other cats and Dale says he will be a big boy one day when he's matured…
If you have any questions, feel free to email me: silkekleineberg@aol.com
Sincerely,
Silke Kleineberg
I would like to start off by saying thank you Select Exotics for everything you've done for me, I couldn't be happier. This all started one night when I was looking online for exotic cats. After searching for a while I came across a website that was all about savannahs. I looked through all the breeders sites and I also contacted a few of them. Most of the breeders I talked to were very unprofessional and didn't help me out at all. I then called Select Exotics, the one's I should have called first.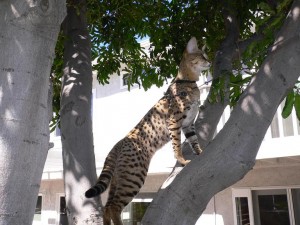 Their website blew away all the other competitors by three touchdowns. I looked through everything they had on their site. Right then I knew where I was going to get my F1 savannah. So right away I called and spoke to Holly. I told her everything I wanted in a savannah and how particular I was. She put my name down on a waiting list.
In the mean time I asked Dale and Holly if it would be possible for me to come down there and interact with their cats. They didn't even hesitate before saying "Of course." Within a week I was on a flight out to Illinois. I arrived at the Hummel's house in no time at all because of Holly's perfect directions. When I got to their house Dale greeted me at the car and welcomed me into their home as if I were family. While talking with the Hummel's I looked around and noticed that they monitor all of their females that are ready to deliver and all of the newborn kittens. I was also amazed to see how clean everything was and how well everything was set up.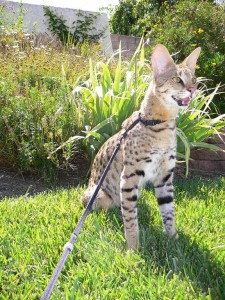 Holly then gave me a tour that I will never forget. She did such a thorough job of explaining the cats and with such great detail that after a few minutes I felt like a cat expert. Then she took me back inside to show me some of the kittens that they had. Holly brought out a couple of kittens each time and every time I was in awe. You can't help but fall in love with these beautiful creatures, especially when they are cuddled up in your lap. The hardest part of the trip was leaving the Hummel's house without a kitten. I knew that all along I wasn't going to pick one up right then, but it was still hard anyways. The trip out to Chatsworth was one of the top ten greatest experiences I've had in my life. It was what you call "short and sweet."
It was a matter of just a few weeks, lots of e-mails and a couple litters later that an F1 male came available. I was so thrilled to hear the great news that I wanted to fly back out there to give the Hummel's a great big hug. Before picking up my kitten Holly kept me very informed through pictures of my kitten and updates telling me how he was progressing throughout the whole process. A few days before picking up my savannah Holly called me to let me know everything I needed to know about the departure and the arrival time.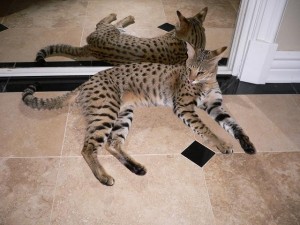 When it was time to pick up my kitten I made sure to get there plenty early. I waited for his arrival with such enthusiasm. In the distance I saw a gentleman carrying a kennel with my baby in it. When he handed it over to me I couldn't believe how well everything was covered up. They also taped food and a letter onto the kennel. The letter gave me all the information about my kitten and even how to feed him. When I got home I brought him upstairs to my room and opened the kennel. The Hummel's told me not to pull him out, but let him come out on his own. He took awhile before deciding to come out so I put some food and water in front of the kennel and then it was only a few minutes before he came out. I blocked off half of my room with a two foot board so it wouldn't be to overwhelming for him. It took about two hours before he decided to jump over my barrier and explore the rest of my room. A few days later he – Wyatt – was introduced to my parent's Chihuahua and family. The Chihuahua and Wyatt became friends right away.
~ Thanks to Select Exotics for giving me the right advice and my new best friend.
This is our nine month old savannah boy, doctor. He came into our family only a few short months ago and quickly made himself at home with our other 3 cats and 1 dog. He adjusted to car rides and walking on a leash so well that we are practically inseparable.
My fiancé and I take him traveling and all around town. He is also playful and has our other cats no longer sleeping all day. He jumps high, plays hard, and at the end of the day he curls up in bed with us or the other cats.
Well Leo is doing great! He weighs 14.2 lbs. at 8 months.  All I can is say WOW, what a great cat. We no longer have mini blinds in the house. He loves to run and jump into the middle of them just to destroy anything in his way. He is a celebrity at Petco.  It is at least an hour visit each time we go there.
Everyone ask "What kind of cat is that?" and says "I can't believe you can walk him on a leash." Leo is always full of energy – it's like having a cat on REDBULL. He still loves to play fetch and pounce on his toys. Thank you for such a wonderful gift to our household.
I picked up Oliver in November of 2007 in Chicago.  Holly and Dale were nice enough to bring him to the airport for me.  I really didn't know what to expect, I had seen pictures via the website and some other photos Holly had sent me.  When i saw him, and how little he was, it took my breath away!  He was absolutely gorgeous!  We spent the next couple of hours together waiting for the flight home.  Right away I believe we bonded, it really was "love at first sight"!
When we arrived home he was introduced to my other three cats, two rescues and one bengal.  The introductions went well and the taking of many, many pictures ensued.  Over the course of the last year I have truly seen how very different he is from other my other cats.  He definitely has a mind of his own and energy that goes on and on!  He fetches, gets up and on anything he wants – recently my new kitchen cabinets!  I find him on the refrigerator, top of the dresser, on the shelf in the dining room – everywhere he shouldn't be!  Oh and forget toilet paper or paper towel!  Both of these need to be hidden, once he gets a hold of either – it's everywhere!  Whenever I go into the bathroom he jumps up on the sink and gives me a look that says – "Please turn on the water"!!  He loves to sit in the sink and drink the water from the faucet, lately he has started allowing himself to get more and more wet.   I laugh every time I hear him snort because I know he's just gotten his nose a bit too far under the water!  He has been an amazing animal to watch grow and see his personality develop.
Thank you Holly and Dale!
The moment we learned about Savannahs we wanted to own one of them. After carefully researching breeders we chose Dale and Holly with Select Exotics. After owning two Bengals, we realize that having a good relationship with the breeder is vital. The importance of talking with the breeder in the future regarding advice is very important and Dale and Holly met these requirements.
Kobie is a beautiful F4 boy that looks like an F3 and has beautiful spots. This little boy is such a challenge for us. We were told by many people to make sure we 'baby proofed' our home… and I ignored that advice – not really knowing why they said that. We owned Bengals and other cats and never had too many challenges…we soon realized what they meant. We now keep the shredding machine empty or Kobie will empty it for us, as well as putting up valuables. Each morning when we wake up, we find Kobie lying next to us with his toys on the bed ready to play. At least twice a day he brings us his stuffed mouse and we play fetch for at least 10 minutes each time. He follows us everywhere in the house, always wanting to help out in whatever we are doing (he actually thinks he can do it better). We even sent in a video to American Funniest Videos of Kobie taking every piece of paper out of the printer as it was being printed. He snatches it from the printer and runs with the paper. He loves our yellow Lab, and even gets his leash when he wants to go for a walk. At times he lies on one of our laps, even though he is not supposed to be a lap kitty. We think he is part raccoon, as he is so intelligent. After owning a Savannah we can't imagine having any other type of cat after this. Our only regret is not getting one a long time ago; we had no idea what we were missing out on. He is pure Joy.
Thanks Dale and Holly!
Bob and Janet Bezold
New Smyrna Beach, Florida
"That face could light up a city!" I was looking at a photo on Dale and Holly's website. It was love at first sight, and I was passionately head over heels.
From the corner of my eye, I could see this kitten cavorting in the hallway. She whispered her name, "Serena," and moved in with me that night even though it would be several weeks before Dale and Holly actually carried her into our home.
When she arrived, I heard what sounded like an agitated squirrel demanding to be released from her travel carrier. A slip of the zipper and out she bounded, fearless–as if she had been living here for weeks. Bounced up to each cat and expected to be greeted.
Dale watched, holding his breath, as she hopped with total abandon up to each member of her new family. An occasional rebuff didn't matter. She shrugged it off and ran up to the next cat, including some pretty heavy weights, an F1 Jungle Cat, F1 Bagral, a couple of F2 Savannahs, Bengals, several Chausies… Serena had arrived and everyone needed to know it, including my 60 lb poodles. No fear there either.
This little girl takes it for granted that she can suckle on each of her brothers and sisters, including the domestics. All allow it. Everyone loves her. Woke me up in a gale of giggles one morning trying to suckle on my ear lobe.
Every bit as wonderful as I knew she would be, she gazes into my eyes with unabashed adoration. Instantly took to a lead and halter. Loves to go for car rides, but only if she can see out of the window (or else she make squirrel noises). Leaps onto the shoulder (where she loves to ride) of anyone who comes into the house and bends down to pet her.
Can you tell? I think she is perfect.
Hello Dale and Holly,
It's been a few weeks since I sent pictures. Seti is doing very well! He has switched to dry food quite nicely. I suppose if it's good for his big sister then it's good for him too. He will only eat from her dish. My other cat doesn't seem to be too bothered by this.
Everyone who comes to our house asks what kind of cat he is. And, everyone of course thinks he's gorgeous.
These pictures are of Seti at 13 weeks and 15. Playing with the water faucet is a favorite for him. He loves water. He also is fascinated by the toilet and has even jumped in a couple times. I made him a fleece cabin to sleep in. (He's definitely spoiled) He knows it's his house and often runs in to take a bath or hide a new find. He slept most of the afternoon yesterday in his cabin facing the fire. We had no heat because our boiler was being replaced. Needless to say, we all stayed toasty.
Happy New Year!
~ Margaret Holden